01/09/2021
YOU'VE GOT THE POWER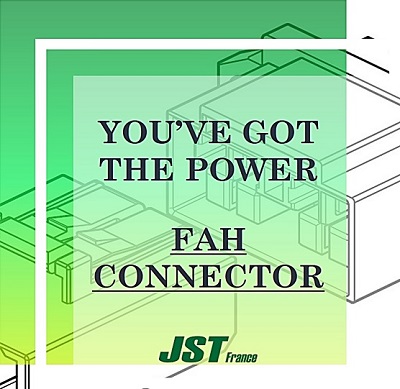 FAH CONNECTOR
This Wire-To-Wire connector is a 1.6 mm pitch, one-touch detachable for a maximum rated current of 50A (for an AWG# 8 wire applied).
Mostly used for Power Supply application, you can also find this connector on Elevators, Escalators, Charging stations, Handling vehicles …
Male & female crimping contacts for this connector are designed in the same shape: they're hermaphroditic ones.
Their finger protection is realized for both: tab and receptacle housing.
FAH serie here !
Connector specifications:
- Current rating :
Ÿ 1 circuit: AWG#8: 50A
Ÿ 1 circuit: AWG#10: 35A
Ÿ 2 circuits: AWG#8: 50A
Ÿ 2 circuits: AWG#10: 35A
- Voltage rating :600 V AC/DC
- Temperature range : -25°C to +85°C
- Contact resistance : Initial value / 2mΩ max.
After environmental tests / 5m Ω max.
- Insulation resistance :100M Ω min.
- Withstanding voltage : 3 000 VAC / minute
- Applicable wire : AWG#10 to #8
- Circuits: 1 & 2