08/06/2023
USB C TYPE
By the end of 2024, Europe wants the
NF EN IEC 62680-1-2
standard to be definitively implemented, which aims to define USB type C as the only wired charging interface.
- 2024 for the whole range of electronic devices. (Tablets, smartphones, digital cameras, game consoles)
- 2026 for laptops.
To respond to this coming into force, JST offers 2 USB-C series.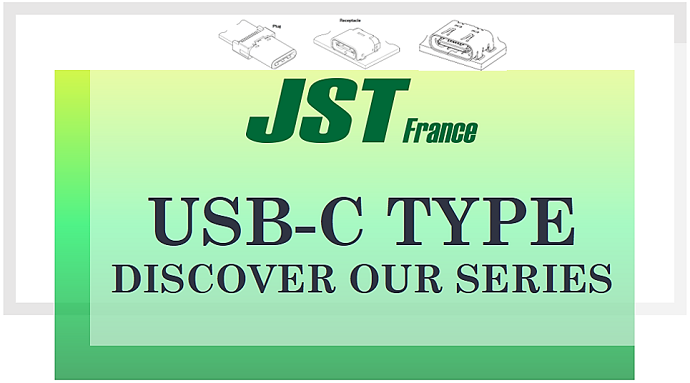 It's a robust interface connector compatible USB type C with a power supply up to 100W.
The receptacle is a standard USB4 certified product with a data transmission speed of up to 40 Gbps.
It has been designed to be reversible, meaning that insertion and extraction can be done on both sides of the socket.
> It provides 10,000 insertion and removal cycles & is halogen free.
SPECIFICATIONS:
- Nominal current:
1.25A DC/ VBUS pin (Pins: A4, A9, B4, B9)
GND (Pins: A1, A12, B1, B12)
0.25A DC/Pin Other Circuits
- Nominal voltage: 20V AC
- Temperature range -25°C to +85°C
- Contact resistance:
Initial value / 40mΩ max
After environmental tests/ 50 mΩ max
- Insulation resistance: 100m mΩ min
- Withstanding voltage: There must be no failure or ignition by applying 100V AC for one minute
Data sheet available
here
The UBC is a hybrid compatible USB type C connector capable of delivering up to 100W of power.
Its hybridity comes from the fact that we can pass more intensity on 4 of the 16 pines, thanks to their larger size on the pines: 1, 2, 11 and 12. (2.5A)
The receptacle is a 16-pin design capable of transmitting data at speeds up to 480 Mbps.
The symmetrical design of the plug also allows the cable to be inserted in both directions.
SPECIFICATIONS:
- Current rating :
1.25A DC/ pin VBUS (Pins: A4, A9, B4, B9)
GND (Pins: A1, A12, B1, B12)
0.25A DC/Pin Other circuits
- Voltage rating : 20V AC
- Temperature range : -25°C à +85°C
- Contact resistance :
Initial value / 40mΩ max
After environmental tests / 50 mΩ max
- Insulation resistance : 100m mΩ min
- Withstanding voltage : There must be no failure or ignition by applying 200V AC for one minute
Data sheet available
here