12/05/2020
Covid-19: Update 12/05/2020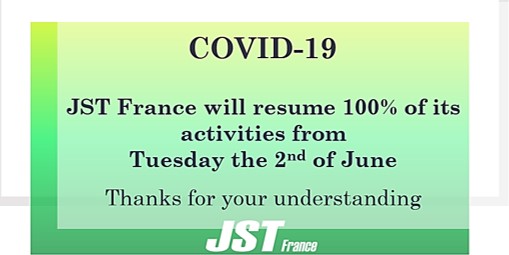 Re: JST France - COVID-19 update 12th of May
Dear Valued Customers,
The Covid-19 pandemic is still present among us and affects significantly our operations.
While respecting government rules and the security measures, JST France has completely resumed its production.
Our warehouse is now operational. All shipments are conditioned by the availability of all carriers, transport from Asia is very disturbed in view of the lack of planes.
This exceptional situation slows down the work of our teams, we ask you to be understanding.
JST France will not be able to accept the costs associated with any delays in deliveries, storage, and other losses due to this pandemic period.
Our internal sales, customer relations and administrative teams remain available via their email addresses.
We expect a normal activity from the 2nd of June.
Our website allows you to access the updates on your backlogs.
Thanks again for your understanding,
We hope that you and your families remain safe during this difficult period.
Sincerely,
Jean-Luc Golovko
Directeur Commercial & Marketing