16/03/2020
Coronavirus COVID-19 – Situation in France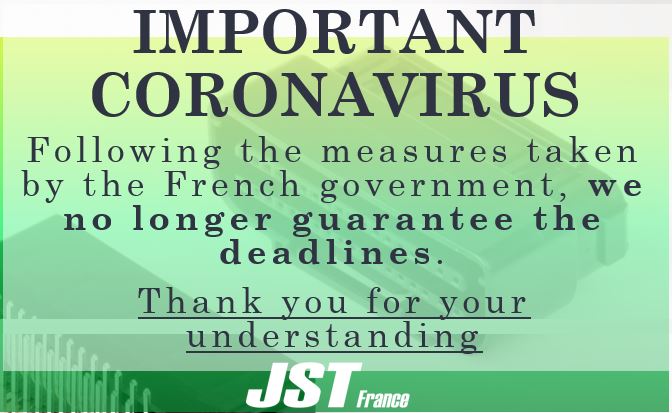 Coronavirus COVID-19 - Situation in France
https://www.gouvernement.fr/info-coronavirus
https://travail-emploi.gouv.fr/actualites/l-actualite-du-ministere/article/coronavirus-questions-reponses-pour-les-entreprises-et-les-salaries
Dear Customers & Partners,
As you know, the Covid-19 is increasing in Europe, and in France.
The safety and health rules to respect are important in order to curb the pandemic.
"Saturday the 14th of March 2020, the Prime Minister decided, following the transition to stage 3 of the plan to fight the epidemic and until further notice, to close all places receiving from the public that are not indispensable to the life of the country.
It is recommended to limit travel and the Government takes measures to strengthen and simplify the arrangements offered to employees and companies whose activity is impacted by coronavirus - COVID-19:
- Home Office,
- Partial activity instead of investing in employees' skills in the event of a prolonged decline in activity."
That is why since today a part of the JST France Team will have to work in home Office.
With those measures, we will try to keep our usually way to work and still be present for you: answer to your requests, register your orders, answer back to your backlogs as much as we can, send you quotations…
Please keep in mind that is an extraordinary situation that we actually live, this epidemic is a first for us and we are working to find the best solutions to meet your needs.
In addition, for contacting us, please prefer the emails, we will not be joinable on our direct lines numbers.
Thanks for your understanding,
We do everything we need to maintain the activity.
The entire JST France Team.