20/04/2020
Covid-19: Update 20/04/2020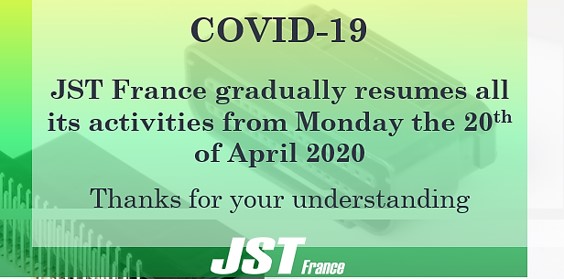 Re: JST France - COVID-19 update 20 April
Dear Valued Customers,
The Covid-19 pandemic is still present among us and affects significantly our operations.
While respecting government rules and the security measures, JST France is gradually resuming its activities.
Our production unit is manufacturing again as of today and will be able to deliver in the following weeks.
Our warehouse is now functioning at 60% of its capacity and is able to deliver and advise for pick-ups.
All shipments are of course conditioned to the availability of the shipping companies.
Our factory will resume its activity during the following weeks, hoping to get back soon to normal.
We are forced to work in very peculiar conditions and this exceptional situation slows down the teamwork.
We thank you for your patience and understanding.
JST will not be able to accept any costs for late deliveries, storage and other losses caused by this pandemic.
Our internal sales, customer service and other administrative departments are available on their email addresses.
Our website allows you to access the updates on you backlogs.
We will keep you regularly updated on the evolution of the situation
Thanks again for your understanding,
We hope that you and your families remain safe during this difficult period.
Sincerely,
Jean-Luc Golovko
Directeur Commercial & Marketing